---
"Introduction to Studio Photo Shooting" as well as our "Lighting Practice Sessions" repeat on an ongoing basis.
Intro to Studio Photo Shooting is offered as individually scheduled private and semi-private sessions.
Studio Photography Lighting Practice Sessions will continue with dates To Be Announced.

For information or registration for either class, please email the studio or call 866-334-4364 (voice only; no text).

Before you can set your creativity free and put your studio photography skills to work for the benefit of your clients and yourself, you'll need to start with a basic level of knowledge and comfort with the lighting and equipment you'll be using to shape your shots."Introduction to Studio Photo Shooting" and our "Lighting Practice Sessions" go hand in hand to meet these needs for photographers with little or no experience shooting in the studio: both those new to photography as a whole, and those with experience shooting outdoors/in available light, or with continuous (hot) lights.
Registration for either class is $60 per person per session, with any session limited to a maximum of four photographers. Lighting Practice Sessions are pre-scheduled group classes involving 2-4 photographers and one model, under instructor guidance. Intro to Studio Photo Shooting is offered as a 3-hour class to small groups of 2-4 photographers, or as a 2-hour one-on-one private session. Instructor for all sessions is studio owner Wendy Levin.
"Introduction to Studio Photo Shooting" presents the basics of camera settings and equipment used in studio photography. This is the ideal class to attend before your first studio rental if you've never shot in a studio with strobe lights before, or if you're unfamiliar with wireless flash sync devices and/or the proper modes and settings to select on your camera. Class covers shooting in manual mode, choosing and setting appropriate ISO, aperture, and shutter speeds for studio photography, and the basics of strobe light functions and wireless flash sync. This is an entry-level class with no prerequisite expectations. You do need to bring a camera equipped with a hot shoe or x-sync/PC port.
For those who have completed "Introduction to Studio Photo Shooting," or those with an existing basic knowledge of strobe lights and camera functions, our "Lighting Practice Sessions" provide a no-pressure opportunity to continue gaining comfort and facility with setting up and manipulating studio lighting. These sessions are hands-on "lab time," with no set curriculum, allowing the participants to set up, explore, and experiment with lighting and shooting. Instructor is present to answer questions and provide guidance. Participants will work with and photograph a model provided for the session.
There is no prerequisite for the Intro to Studio Shooting class. Prerequisite for attending the Lighting Practice Sessions is either completion of Intro to Studio Shooting, or understanding of ISO, shutter speed, and aperture settings and shooting in manual exposure mode.
** These classes will utilize D. M. Gremlin Studios' complement of AlienBees strobe lights and Pocket Wizard wireless transceivers. However, the curriculum is designed to present an overview of general functionality common to a wide range of lighting brands and types, so that you'll have a firm basis for working with the equipment at hand, both in our studio and elsewhere.



(return to top of page)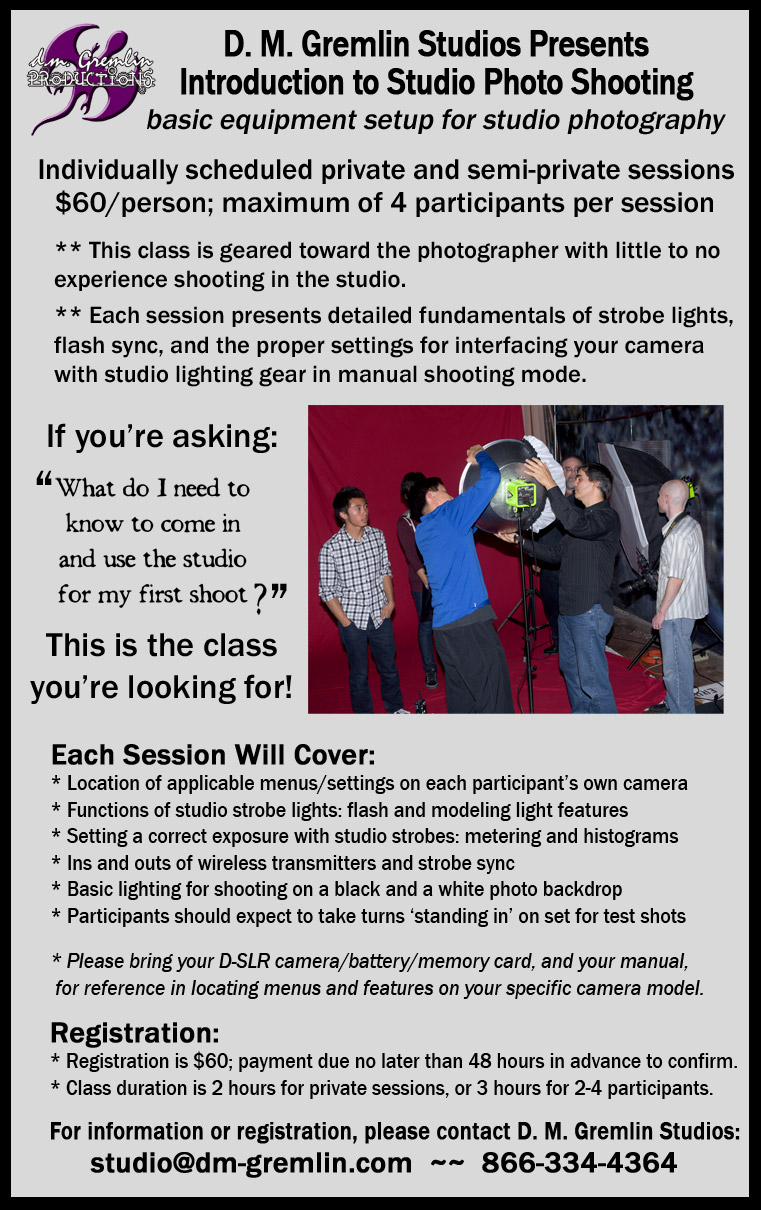 ---