Studio Overview
D. M. Gremlin Studios was founded as D. M. Gremlin Productions in December 2000 with the mission of providing major-label quality audio recording and music production services to independent artists all over Southern California. It has expanded to serve independent and professional musicians from across California, the United States, and other nations of the world, including Australia, Germany, France, and Japan.
The studio occupies a 2200-square foot, air-conditioned commercial building located in North Long Beach, CA, just a few blocks from the junction of the 91 and 710 freeways. The building has its own off-street, gated parking lot, with direct load-in to the recording room. The acoustically treated 19' x 23' recording studio live room forms the centerpiece of the space, allowing for recording with full bands, as well as close and room miking of drum kits, acoustic instruments, amplifiers, and vocals. The live room is also home to our Baldwin 6000 concert piano, available for use within recording sessions. The tracking room is surrounded by a 12' x 16' control room, a 4' x 8' vocal/isolation booth, and a separate computer room for quiet operations.

Studio Equipment List
D. M. Gremlin Studios is proudly wired with Mogami Studio Gold XLR and instrument cable.
Outboard Gear
Aurora Audio GTQ2 Mark III dual mic preamp
Manley Labs Force 4-channel tube mic preamp
Trident A-Range dual mic preamp/EQ
2x API "The Channel Strip" (512C mic pre, 550A EQ, 527 compressor)
Neve 33609/N stereo/dual mono compressor
Dramastic Audio Obsidian buss compressor
Summit Audio DCL-200 stereo/dual-mono tube compressor
DBX 160SL stereo/dual mono compressor
FMR RNLA stereo compressor
Drawmer DS-201 dual gate
Manley Labs Massive Passive dual channel tube EQ
Sontec MEP-250C dual channel mastering EQ
2x SSL 611 E/G series EQ
2x Warm Audio EQP-WA Pultec-style tube EQ
A/D Converters
Antelope Audio Orion 32 32-channel A/D-D/A via MADI
Apogee PSX-100 2-channel A/D-D/A
Microphones
Peluso P-49 tube microphone
Peluso 22 251 tube microphone
2x Neumann TLM-103 large diaphram condenser microphone
2x Sontronics Sigma active ribbon microphone
EV RE-20 dynamic microphone
AKG D-112 dynamic microphone
Shure SM-57/SM-58 dynamic microphones
MXL 603/604/1000 condenser microphones
Studio Owner and Engineer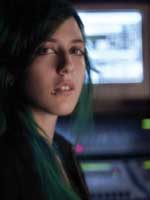 Wendy Levin's career spans more than 20 years of experience in the audio engineering profession. She carries forward a foundation in traditional analog recording, and applies this range of skills to modern digital recording, editing, and mastering. .She is a musician, composer/arranger, songwriter, and producer, holds a Bachelor's Degree in Commercial Music, and approaches engineering from both the musical and technical perspectives. As a musician, producer, and engineer, she is well-versed in musical styles ranging from hard rock to pop, jazz, fusion, funk, R&B, hiphop, rap, and synth/electronica, and more. Wendy is a Voting Member of The Recording Academy (The Grammys).
Wendy has worked at world-class studios such as Tommy Tedesco Studios (Hollywood, CA) and the studio of Michael Brooks/Real World Records (Los Angeles, CA). Early in her career, she was recruited by the renowned Recording Institute of Technology (RIT) in Hollywood as a staff engineer and instructor. She established her credentials working as first and second engineer on numerous record releases by top-echelon musicians including Journey drummer Steve Smith, Grammy-winning bass player Victor Wooten, drumming pioneer Dennis Chambers, fusion icons Tribal Tech, and virtuosi such as drummer Virgil Donati (Steve Vai), drummer Ray Luzier (David Lee Roth band; Korn), bassist Stuart Hamm, guitarist Frank Gambale, and guitarist Mike Kenneally (Frank Zappa; Dethclok).
In 2005, Wendy took herself "back to school" to pursue training in the exacting specialty of audio mastering. She trained with the team of Grammy Award-winning engineers at Airshow Mastering (Boulder, CO), including David Glasser and Dominick Maita. And just as in the areas of tracking and mixing, she has brought her "big studio" experience and skills to bear here at D. M. Gremlin Studios. Her recent recording and mastering clients include Jelly of the Month Club (Bud Gaugh and Todd Forman of Sublime), Randy Bradbury (Pennywise), Greg Ginn (Black Flag/SST Records), Long Beach Records US/Germany/Australia, and independent bands and artists from Southern California, the greater United States, Europe and Asia.
In addition to working with the musical elite, Wendy has always been a teacher, guiding and fostering the growth of artists experiencing their first and ongoing recording sessions. And as a producer, she combines her full range of musical and technical skills into a powerful creative force to bring out the best in every artist's recording, from seasoned professionals to independent artists, students, and studio first-timers.
Studio Founder: In Memoriam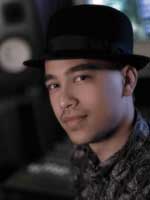 A conservatory-trained musician with a rock & roll background, the late D. M. Gremlin founded D. M. Gremlin Productions in December, 2000.
Gremlin established himself as a guitar stylist and songwriter in the dynamic San Francisco Bay area band scene, before further developing his instrumental and compositional abilities at the San Francisco Conservatory of Music. He then developed his audio engineering skills in step with the emergence of modern digital recording technology. He established D. M. Gremlin Productions upon the premise that audio technology had reached the level where a skilled engineer could utilize the current generation of digital recording applications to rival the output of top-class (and top-priced!) traditional recording studios. As an independent musician himself, his aim was to eliminate the need and constraints of record label contracts by making truly professional recording studio services accessible and affordable directly to independent artists.
Proving his vision, Gremlin amassed an extensive discography as a guitarist, engineer, and producer, earning him the status of Voting Member in The Recording Academy (The Grammys).
D. M. Gremlin passed away in 2007.