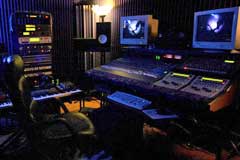 Our basic rate is $35/hour including engineering. The studio is not available for rental by outside engineers. Basic recording services include tracking (up to 200 tracks) and mixing, but we also specialize in advanced digital editing techniques, including precise and natural-sounding vocal tuning, timing adjustment for any instruments or vocal tracks, noise reduction for individual tracks or entire mixes, and more.
We track through an analog outboard front-end and Antelope Audio Orion32 A/D converter and studio interface. Digital audio is manipulated in the Steinberg Nuendo DAW environment, running on a custom-built PC. Mixing and mastering combine "in-the-box" processing with an array of high-end software plug-ins, as well as processing through our analog outboard channels. Projects recorded in ProTools or other software formats can be brought to us via consolidated.wav or .aif files bounced from a common zero point. If you're transferring a project in from another studio, we'll discuss file formats prior to your first session date to ensure compatibility.
---
Tracking: Most recordings here are done on a "drum tracks first" basis, with additional instruments playing along for scratch takes and then overdubbing final takes one by one. This process gives the most sonic and production control for many styles. In addition to the primary tracking room, we have several amp/vocal booths, to allow clean live tracking of several instruments or vocalists at the same time. Some bands alternatively choose to track completely "live" with all players miked/amped in the same room. Before and during the booking process, we'll discuss your style and instrumentation, and plan out what recording option is the best for your project.
Mixing: All mixes are fully automatedl, so it's easy to pick up right from where you left off from a previous session. We do basic mixing 'as we go' during tracking so you can hear each song taking shape as each element is added, which also the efficient final mixdown stage more efficient. Entire mixer settings can be transferred easily and quickly from one song to another for consistent tones across a group of songs. Special effects and samples can be added from either our sample library or from audio clips that you bring in. Please note though, as specified in our studio policies, we will not include unlicensed copywrited material in your recording - samples from the recorded music of other artists, or tv/movie audio clips, for example.
Editing: Detailed and precise editing is available for instrument and vocal tracks. Vocal Timing & Pitch Correction - Comping of words and phrases from multiple takes, timing adjustments, accurate doubling, natural-sounding pitch correction, and more. Drum Edits - Timing of drum parts can be adjusted whether or not recorded to a click. Hand editing or hard quantizing techniques may be used. We can build drum loops, splice together or remove sections, and use recorded drums or drum machines to trigger many different sampled drum tones.
Mastering: Mastering is available for projects recorded and/or mixed here, or for projects already mixed and ready to be mastered as the final step before release. Mixing must be completed prior to mastering, whether tracking and/or mixing take place here or elsewhere. For more information about mastering, please visit our Mastering Services page.
---
Day rates are available at $250 for 9-hour full day block. Day rate includes 8 hours of recording/editing/mixing time with a one hour meal break off the clock mid-session. Day rates are not available for mastering, or for mix-only sessions.
An Extended lockout rate is also available at $1150 for a block of five consecutive full days. Each day includes 8 hours of session time, as detailed above. Equipment may be left set up from day to day.
Production/co-production services are available on an hourly basis at the rate of an additional $15/hr added to the $35/hr recording session rate. No day or block rates apply to hourly production services. Production services include any form of musical input being provided during your sessions: Performance coaching for vocalists or instrumentalists, assistance with song structure, musical arrangements (what parts are played by the various instruments), and session player services for performance of additional musical tracks beyond what is performed by you or your band members. We also offer full production services for bands or artists wishing to take advantage of the full range of our musical and technical skills and experience. In the role of producer, we oversee the recording process and guide the shape of the musical creation from beginning to end, for a polished, release-quality recording. Full production projects are by project quote; please refer to our Production Services page for further details.